3dfx hopes the Voodoo4 will appeal to graphics professionals, and these days more and more graphic artists are working in three dimensions. That means hardcore gamers aren't the only ones who want great 3D performance.

Maxon Computer recently released CineBench 2000, a new tool for benchmarking 3D performance based on Maxon's high-end 3D package, Cinema 4D. The graph below shows CineBench scores for the Voodoo4 compared to scores for the Voodoo5 taken from Mike's review.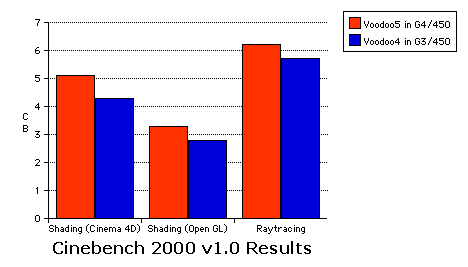 (For this test, the Voodoo4's 3D acceleration options were all set to their default values. Longer bars are better. Note that this chart compares a G3 system to a G4 system.)
Despite the Voodoo5's dual VSA chips, it delivers only 10% to 20% better CineBench scores than the Voodoo4. For graphics pros, even a 20% boost in performance can be a timesaver. But if price is at all a consideration, it's good to know the Voodoo5 doesn't offer a lot more bang for the buck.
Unfortunately, like the Voodoo5, the Voodoo4's Open GL Shading benchmark is disappointingly low compared to CineBench's own renderer. This suggests 3dfx has a lot of room for improvement when it comes to its Open GL drivers.
(The next page covers game performance, image quality and FSAA comments.)