Archive of Monday, May 12th, 2014 News
Go to Current News Page
---
Mac Upgrades/Mods | CPU Upgrades | Storage | Video | Audio/HT | Apps/OS/Network | Search
---
Miss a Day? See the Archives
= Recent Articles/Updates =
( Your Tips, Upgrade Reports, Questions to news at xlr8yourmac.com)
Info/Tips for using Multiple Displays with Late 2013 Mac Pro:
A late 2013 Mac Pro owner asked for help with problems he had using 3 displays (2 Cinema Displays via TB and a Samsung via HDMI). There are notes on connections/bus limits and a port diagram in the Apple doc on Using multiple displays with Late 2013 Mac Pros. It has 3 Thunderbolt busses (2 ports each) plus an HDMI port (which is on TBolt bus 0). You can connect up to 6 displays, max 2 per bus. Here's a clip from the article that shows the ports and bus ID info:

Note: Attach Displays to different Thunderbolt busses when possible (see below). Do not attach more than 2 displays to any bus. This means if you use the HDMI port, be sure to then only use one of the bottom 2 Thunderbolt ports (bus 0).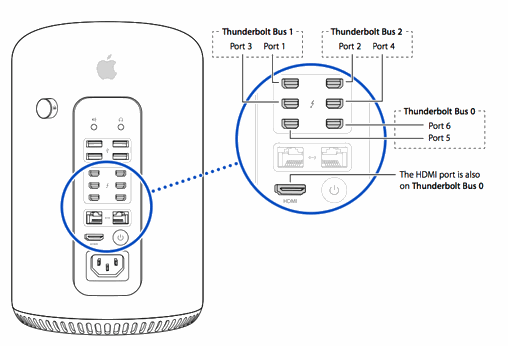 That doc also includes notes on active vs passive adapters, 4K displays, etc.
(Other Late 2013 Mac Pro related docs/guides are here.)

Apple/Mac/iOS related News/Reviews/Op-Ed/Updates:
Other News/Reviews/Tech/Tips/OT:
Recent Articles/Tips/Tweaks/Reviews:
Listing/links of updates, DIY mod/upgrade articles, tips and reviews you may have missed. (Mac compatible 802.11ac wifi cards/adapters, Radeon 7970 in 2007 Mac Pro, Mac mini/MBP/iMac internal Mini-PCIe eSATA Card Mods, OS X Updates/Tips/Problems, Low-Cost CPU Upgrades for early Mac Pros/Xserves and Minis, Mac Mini SSD upgrades, OS X SSD Trim Enablers, DIY Fusion drives and more.)

---
= From my Sponsor, your click matters =
Search for Upgrades for Your Mac Model
Our Installation videos cover "DIY" upgrades for many Macs.
Also see how much RAM your Mac can use.
---
Previous News Archive Summary:
Friday May 9th, 2014 News
Radeon 7950 Monitor Resolution incorrect fixed in OS X 10.9.3 beta
Apple may buy Beats Electronics for $3.2 billion, reports say
The Reason for Apple's Massive $3 Billion Beats Deal? Spotify
OWC May Garage Sale items (sponsor blog)
Troubleshooting a computer that won't turn on

Updating OS X and Mac App Store apps

Guide to using Maps (iOS)

Firefox 29.0.1 Release Notes

Kingston 240GB mS200 mSATA review
IBM Hawks PCM for Storage
For links to older news pages, see the Archives.

---
OWC XYM SPECIALS!
(Ad/Sale Items)

= UPGRADES by Model =
Upgrades for YOUR Mac!

= Refurb Mac Pros =
(Click for Current List)

= SSDs up to 4TB =
SSDs for Most Macs!

= ThunderBolt =
Drives, Docks & More

= HARD DRIVES =
Up to 12 TB HDD
HGST, WD, Seagate, Toshiba

= 2.5" HDs & DIY Kits =
Notebook Hard Drives and DIY drive/case kit bundles

= MEMORY =
Lifetime warranty RAM Upgrades!

= OPTICAL DRIVES =
Internal and External Superdrives/Blu-Ray drives

= VIDEO / DISPLAY =
Graphics cards, Displays, Adapters, Cables & more

= AUDIO ITEMS =
Interfaces, Cables, Software, Speakers, Headphones & more

= SOFTWARE =
Apps, Utilities, OS, VM, Games and more

= WIRELESS =
WiFi and Bluetooth Devices/Adapters/More

= Repair Service =
for iPhone, iPad, Macs

= iPad/iPhone/iPod =
Accessories, Cases, Docks & More