---
2012 Mac Mini SSD upgrade (Intel 520 480GB) and Drive Cloning Notes
Posted: March 11th, 2013
more notes, pix added Mar. 12th
(later added FYI on 10.8.3 update)
---
Over the weekend I had a chance to swap my SATA2 Toshiba 512GB SSD in a Late 2012 Mini for a SATA3 480GB Intel 520 series. (520 owner had a 2009 MacBook Pro and found out too late that an SATA3 SSD would only run at SATA1 speeds in it (related to Nvidia MCP79 chipset), so made a deal to exchange for the SATA2 512GB Toshiba SSD, if I did the install in the MacBook Pro.) I had a few issues in the process but it all turned out well with a nice performance boost.
First Blackmagic test (5GB test option IIRC) of the 480GB Intel 520 SSD showed 498.1MB/sec Reads, 283.5MB/sec Writes. Not bad since BM uses incompressible data I think, which limits SandForce write speeds. The majority of real world typical use is compressible files but regardless I have no complaints. (Compression also means less writes/lower write amplification.) Intel's 520 specs show the 480GB model a bit slower than the 240GB, but of course I'm very happy with the swap vs the SATA2 SSD.
Intel 520 Series 480GB Results
(Late 2012 Mac Mini/2.3GHz Core i7/16GB RAM)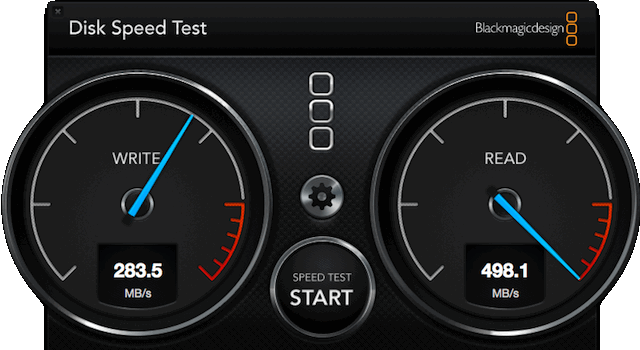 The SATA2 512GB Toshiba SSD in this mini had shown 170MB/sec write, 220MB/sec read IIRC but can vary from run to run. (I'd saved a screenshot of one run that showed 181.2MB/sec writes, 206MB/sec reads.) The 512GB Toshiba SSD didn't support NCQ, which I didn't know until after I'd installed it.
Pre-Install Drive Cloning: (see FYI below due to the (poor) method I used)
I had cloned the original (from late Oct. 2012) Mini's OS X 10.8.1 boot hard drive (before it was ever used) to the Toshiba SSD using an OS X 10.6.8 Mac with Debug enabled in Disk Utility to be able to clone the Recovery partition. (Long story but in hindsight should have used some other method than using 10.6.x DU's Restore feature (booted from a 10.6.x Mac). I'd used DU Restore dozens of times for OS X 10.6.x and earlier drives, but this was my first time using 10.8.x. I wanted to keep the mini's OEM HDD unused but should have just booted from the recovery partition on it and cloned it from there.) Also note with the method I used for the Recovery partition means Apple's OS X Recovery Disk Assistant Utility will not work. (Doesn't find the recovery partition.) I'd always avoided Lion/MLion and still do whenever possible. Never will be a fan of Internet Restore or the current Apple Hardware Test that requires an internet connection. (I understand why they did that but also see the downside for end users.)
For cloning the Toshiba SSD in the Mini (which had been used/updated to OS X 10.8.2 builds 12C2034 and 12C3104), I booted to the Recovery partition on the Toshiba in the Mini, with the Intel 520 SSD inserted in a USB3 Drive Dock. (And created a small extra partition on the Intel SSD for a later clone of the Toshiba drive's (non-hidden) 'Recovery' partition.) I then booted from the Intel 520 SSD (OS X 10.8.2 volume) as a quick check before swapping it into the Mini. (I cloned the Toshiba's Recovery partition later after the 520 was installed into the Mini, with the Toshiba in the USB3 dock.)
FYI: My Cloned OS X Volume was Read-Only:
Just a FYI that after cloning the way I did, I found out the cloned drive was read-only. At first boot from it in the Mini (logged in as admin user) I checked Apple System Profiler to confirm the Intel 520 had a SATA 3 (6Gbit) Link speed (it did). I then ran the Blackmagic benchmark and was unable to select the boot drive as the test target. (Permissions issue - read only.) I verified the login acct was still set to admin (it was) and then did a Get Info on the boot volume to check its permissions list - bingo. It did not have 'admin' as a user. I added admin with R/W permissions after authenticating. (Next time I'll try restoring from the TM backup instead.)
---
BTW: When booted from the OS X 10.8.2 SSD in the USB Dock and the previous OS X 10.8.2 SSD + OEM 1TB hard drive (used as a TM volume) still installed in the Mini - I noticed something that I posted a note about last fall after new Minis started shipping with OS X 10.8.2 (+ Fusion drive options) instead of OS X 10.8.1 like this one. When I booted from the OS X 10.8.2 SSD install, the internal SSD and 1TB HD volume names/info appeared in red in Disk Utility. (I.E. 10.8.2 Disk Utility thought they were a failed Fusion drive - any repairs would have created a Fusion drive/losing the existing data.) Here's a copy of that post from my article on Late 2012 Mini HDMI flicker that also covered other issues:
OS X 10.8.2 (or later) Mini (Dual Drive) SSD Upgrade Note: This server (2 HD) Mini bought in late Oct. 2012 shipped with OS X 10.8.1 (ditto for Recovery partition) and I swapped in an SSD (removing 1 of the HDs) and then later updated to 10.8.2.... however as of mid-November, Minis ship with OS X 10.8.2 pre-installed and anyone that swaps in an SSD as a 2nd drive (w/HD in other bay) may have Disk Utility in the Recovery Partition think they have a 'damaged' "Fusion Drive" setup and any 'repair' will erase the drive(s) to create a Fusion volume. On Nov. 20th, 2012 OWC posted a blog about this with more details: Special Note on Adding SSD as 2nd Drive in 2012 Mac mini that shipped w/OS X 10.8.2. (Or later.)
---
Intel 520 Series SSD Retail/Reseller Kit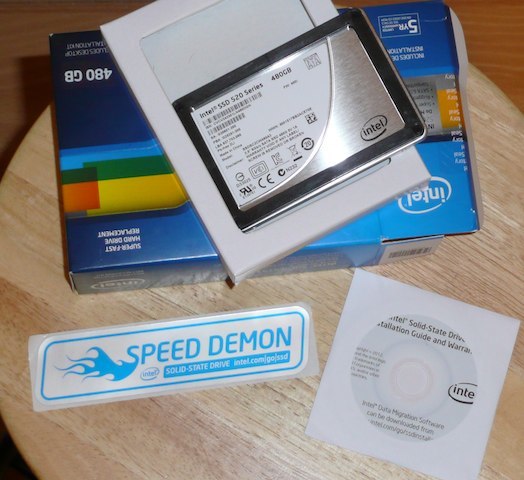 Included but not shown in the photo above was an alum. 3.5in Bay Adapter plate, SATA data cable, SATA power adapter cable (standard Molex 4-pin) and a printed Quick-Start Installation Guide. (The mini-CD in the kit isn't usable with slot-loading drives.)

Intel 520 SSD Drive Swap/Install:
Sponsor OWC has DIY video guides on Mac Mini upgrades I'd used previously that is more complete than what I could post here. Since I was only swapping out the lower drive (when mini is inverted for the upgrade, it's the top drive/facing you), I only needed to remove the fan, shroud and antenna/shield. (Motherboard stays in, and I also left the ram installed and didn't disconnect the antenna, just tucked the shield away from the drive area.)
(poor quality pix but just to show parts left in during swap)

This time however I had a bit of trouble - the Apple/OEM hard drive screw Pins (that mate in locating holes on a rubber strip on the Mini's case wall) seemed too long for the Intel 520's holes (as if they were bottoming out, wasn't due to locktite buildup). That may not be typical however but curious if any other Intel 520/mini owner has experienced that. (Winced a bit as I had to literally force them fully in.) FYI: A stiff card or similar thin sheet can help in positioning the drive to align the guide pins with the mating holes inside the mini. (I have a laminated card that's thin but rigid enough to provide good support.)
I eventually left one locating pin out, as otherwise I was not able to get the 2 Airport antenna/shield's through holes to align well enough with threaded holes in the mini to screw both them in. They were just a hair off perfect concentricity but enough to prevent the screws from threading in, and with the case being threaded aluminum (don't think inserts are used) I didn't want to damage them from cross-threading. (Those 2 screws have larger heads that are used for locking in the mini's bottom case cover.) I tried reseating the SSD a dozen times before finally removing one of the guide pins. Since the drive is secured (via 2 screws) to that shield, the lack of 1 locating pin shouldn't be an issue.
Before buttoning up (installing base cover), I do a visual check of connections and that the mini's fan runs when powered up. (And don't forget to select the new drive in the Startup Disk preferences.)
Knock on wood all seems fine now and hopefully will for some time to come.
BTW: No problems updating to OS X 10.8.3 with the Intel 520 SSD installed (unlike X25M SSD owners that didn't have the latest firmware for it, noted in Mar 14th news). And I saw a nice increase in Cinebench OpenGL scores with OS X 10.8.3:
OS X 10.8.3
OpenGL: 26.51
CPU: 6.24

OS X 10.8.2
OpenGL: 22.85
CPU: 6.22
This mini 'feels' very fast. An SSD (vs spinning platter drive) definitely makes a difference you appreciate every time you use it.
(If you're not comfortable installing an SSD or 2nd drive kit yourself, sponsor OWC offers a Mac Mini Upgrade Installation Service that includes Fedex overnight shipping (CONUS) both ways.)
---
Other Mac Mini Mods/Upgrade Articles:
For other articles on DIY upgrades and mods, see the Mac mods/upgrades page. The original article on Late 2012 Mac Mini HDMI problems (with tips and notes on other issues) is here.
---