(Bill sent info and benchmarks his latest mini-ITX Hackintosh build he calls the "Monster Mini".)

Report on my now-finished new computer. I intended to make a Hackintosh with more computing power than any of my previous 3 DIY Mini-ITX systems, using mainstream but high-quality components.

Total cost of build (early 2019, prices usually go down over time) - $2343
(And remember this is a completely upgradeable/repairable system that you can easily upgrade in the future.
No soldered in RAM/SSD/Video, non-standard/proprietary motherboard, power supply, case, etc.)
OS and Firmware Used
Mac OS Mojave 10.14.5 (Build 18F132)
Gigabyte AMI BIOS (UEFI) version F5
(for Z390 I AORUS PRO WIFI MotherBoard)
SMBIOS iMac 19,1 (See comments below)

GeekBench Scores - macOS 10.13.6 vs Mojave 10.14.5: (added 7/8/2019)
I re-ran GeekBench v 4.3.4 on my "Monster Mini" Hackintosh to see the differences in performance between High Sierra and Mojave, after everything was (finally) working properly on Mojave. Hardware is identical. High Sierra 10.13.6 results are on left, Mojave 10.14.5 on right. (Mojave's "Metal" score is slightly worse than on High Sierra, but all others have improved.)
(That 1% or so difference may be within the run to run variation.)
GeekBench 4.3.4 scores of macOS 10.13.6 vs 10.14.5
---

(Earlier Benchmark posts follow)
(Previous) GeekBench Scores:
As I wrote earlier (below), I did try updating the SMBIOS on my Hackintosh from iMac 18,3 (2013 iMac) to iMac 19,1 (2019 fully-optioned 27" Retina iMac with the i9 9900K CPU - same as mine). But the shutdown->restart problem is still here. Below are the Geekbench v 4.3.4 test results for the CPU (single-core and multi-core tests) and the OpenCL "Compute" graphics card test. The overlay is a pic of what Geekbench thinks my computer is now.
GeekBench 4.3.4 score (using SMBIOS iMac 19,1)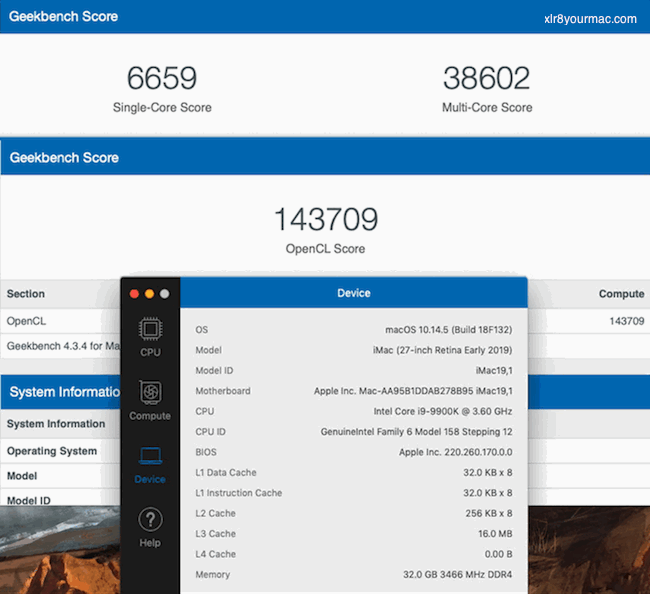 (Previous comments and Geekbench 4.3.3 scores using SMBIOS iMac 18,3 follow.)
Here are Geekbench benchmarks on Mojave build 18F132 for my new computer. I had not yet tried SMBIOS iMac 19,1 which more closely resembles the Mac computer having a i9 9900K CPU. But at least iMac 18,3 seems to work OK, except Shutdown from the Mac menu always results in a restart... I have to shut down using the power switch on the computer case. I'm working on that.
Previous GeekBench 4.3.3 score (using SMBIOS iMac 18,3)
BTW: This beats the scores from a 2019 27in iMac with the same CPU (8-core i9-9900K, 3.6GHz) that scored 6157 single core and 32293 multi-core. Jman's Mac Pro 5,1 with Dual 3.46 GHz X5690 (6 core) CPUs, 64GB RAM Geekbench CPU scores were 2941 (single core) and 21000 (multi-core). His dual NVMe PCIe card disk scores were very close however.


GFXBench Metal Benchmarks: (more results added June 18th)
I wanted to test graphics with the Sapphire RX 580 Nitro+ card, but it turns out neither Heaven nor Valley will run on Mojave. (Apparently there is some file they need which they can't find.) The only benchmark I had that would run was GFXBench, which uses "Metal". Graphics result on that is attached below. 120 fps is pretty good I guess.
(I asked Bill about the Display and Resolution/mode used for GFXBench.)
- LG 24" Gaming Monitor, 1920x1080. Bit depth not stated but guessing 32 bit color. Benchmark runs fullscreen.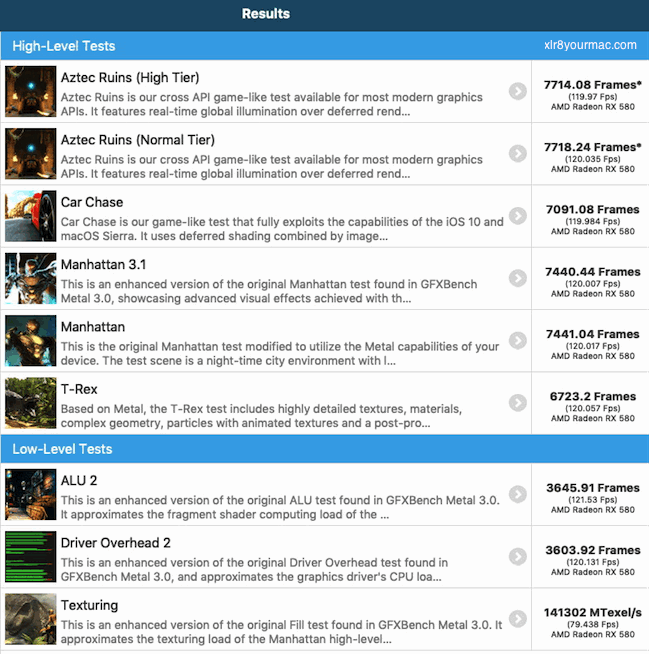 Disk Speed Tests
Here are "Black Magic" disk speed test results running my new Hackintosh Mini-ITX under Mojave 10.14.5 Build 18F132. Storage devices are (two) 1TB Samsung 970 PRO NVMe M.2 SSDs. I have one of these installed on the top of the motherboard, and a second is plugged in underneath the board. The first result below is for the top (primary) SSD. Test result for the underside (backup) SSD is the screenshot below that.
Black Magic Benchmark - Primary NVMe SSD: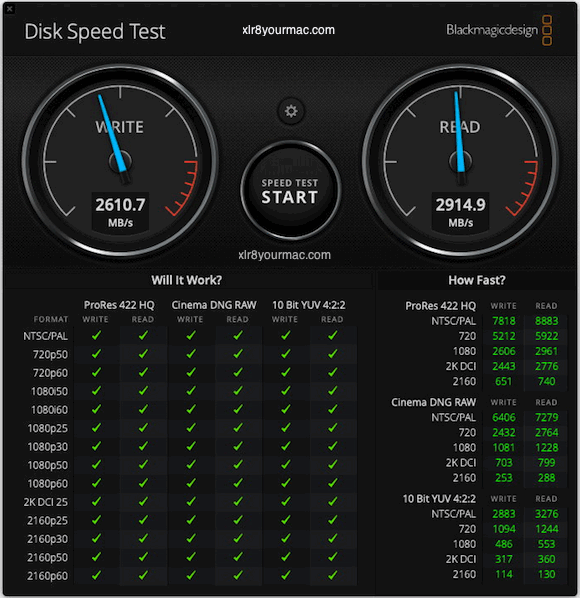 Black Magic Benchmark - Secondary NVMe SSD: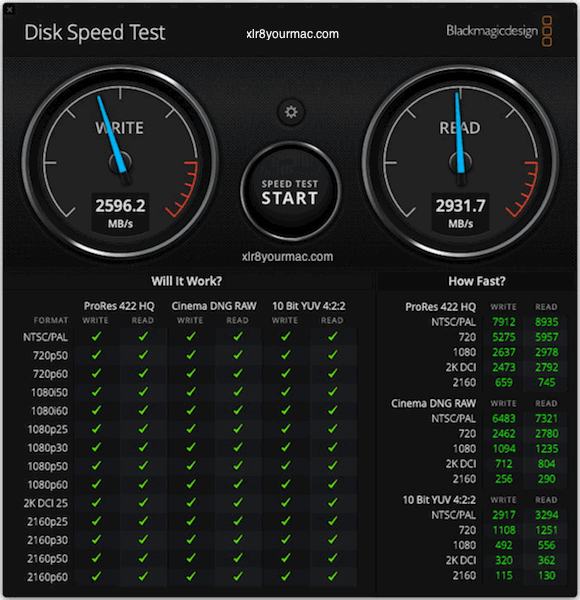 mini-ITX Hacintosh Case Views: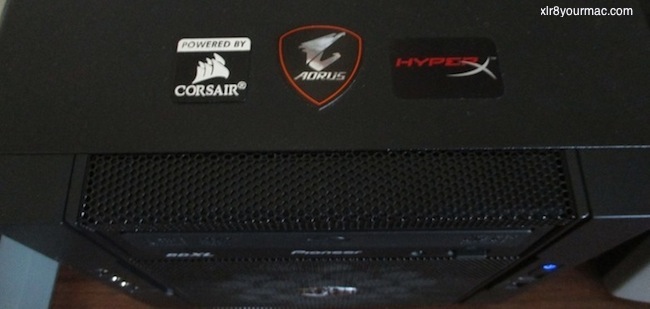 ---
Thanks again Bill!
(I'm hoping to install an NVMe PCIe card in my tower Mac Pro. For my needs (no RAID), the setup in a reader's Review of Dual NVMe SSD PCIe card in a Mac Pro (bootable with Mojave 140.0.0.0 firmware) would do nicely.)

Here are links to Bill's previous Hackintosh benchmarks and upgrades. Includes a summary list of hardware components and software used.

His earlier macOS/Nvidia driver Benchmarks are linked down the Video Topics page.

(There's a previous page here on retail Radeon RX580 in Mac Pros running macOS Mojave, 10.13.6, or 10.12.6.)




= Back to Current News Page =