Water Cooled MDD G4 Tower
Text/Photos sent by Stephen W.
Posted: 4/22/2003
---
(I was bcc'd yesterday on this email from Stephen sent to other sites also like G4noise.com. I scaled the included photos down to web page size. The March 6th, 2003 news page here also had a link to a reader's earlier model (Digital Audio) tower Dual G4 water cooled system/mods, but his .mac page is no longer online so with his permission I've posted a 2 page clone of it here.)
---
I bet you didn't know this - but there's another company interested in reducing the noise of G4's with great temperatures. Dangerden!
I've been working with Danger den closely to create the first ever water-cooled Macintosh kit. We're still in a lot of prototyping - but I thought I'd give you a peek at one option were looking at. These kits will be for more of the "extremists" who want to go the extra mile. Weather it be over clocking, silence, or a really cool look.
Here's a few pictures ... With this and the apple power exchange installed in my Mac- the noisiest thing is my NVIDIA Ti Card's little fan. I believe it runs under 30dbl. Were currently working to improve this and make water-cooling the quietest alternative available for the Mac.
-Stephen Walker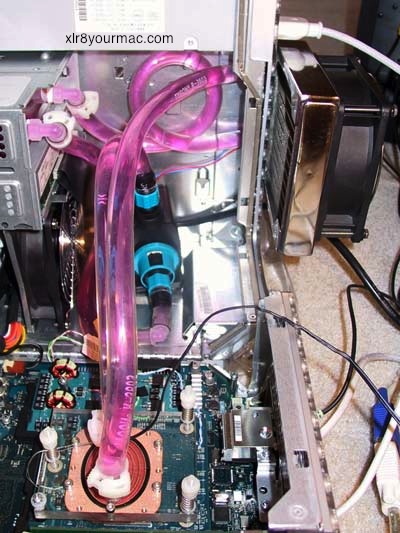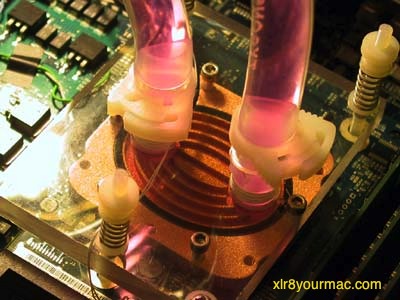 Although Steven didn't include their URL, DangerDen's website is www.dangerden.com/.-Mike
Kenneth P. also sent links to a mac parts dealer's listing of Adapter Kits For Mac G4s and Cooling Blocks as well as Liquid Cooling Systems.

For other Mac System related articles (mods/upgrades) see the Systems page.