ATI X1900 G5 Edition w/TMG AT2 Cooler
Posted: Jan 25, 2008
---

I recently started having trouble with my X1900 G5 edition. I started to see very large spikes going through my screen and having system crashes anytime I would stress my machine during long hours of play time on games such as "Call of Duty" and "UT2004". I come to the conclusion that my X1900 must be overheating so I started to look for after-market GPU coolers hoping that my X1900 still had some life if solve this problem. I decided to buy a Accelero X2 but couldn't find one online to buy, so then I ordered a TMG AT2.

Installation was very easy, I prepared the card (cleaning it), scraped off the thermal paste (GPU had a very large amount) that come on the TMG AT2, I then applied Arctic Silver 5 directly to the GPU chip, and stuck on the memory pads. I then set the X1900 "on to" the TMG AT2, screwed it together and thats it.

I should note that I used the onboard 3-pin connector (X1900) for the TMG AT2 instead of the 4 pin molex connector that came on it. And I could not use the clear plastic air shield after installing the TMG AT2 so I used a piece of aluminum foil to fool the air shield sensor making the G5 think that the air shield was installed. (So you can't fit the large clear plastic shield on the side of the case with the AT2 installed due to the width of the heatsink? (from the photo below). Let me know if you see any negative effects of that on airflow inside.-Mike)

Ok I have now stress test my G5 for over 4 hours, 2 hours on UT2004 and 2 hours on COD. I haven't had no system crash yet or seen any spikes :-) I plan to stress it more but that will be another day until then I hope my problem is solved.

I like the TMG AT2, even though price is around $40. I want to add nothing about it looks cheap, and it is completely silent to my ears, I hooked the TMG AT2 to an external power source before the installation and sent a full 12V straight to it and the only thing I heard was air moving through the heat-sink fins. I cannot hear it at all inside the G5 even with the door open and me having my head right beside the X1900, but I can still fell a good breeze of air coming out of the TMG AT2.

My Setup is a Quad G5 with 2.5GB of memory, running OS X 10.4.11. I have added a picture below

I also want to say how I was a day late on claiming this X1900 for warranty repair, I thought all my problems were from the G5 itself when all along it was the X1900 (4 month period of problems). I knew when I made the claim my warranty ran out 1 day before, but tried anyway. AMD/ATI sent back an e-mail saying my product was out of warranty.
-Dean P.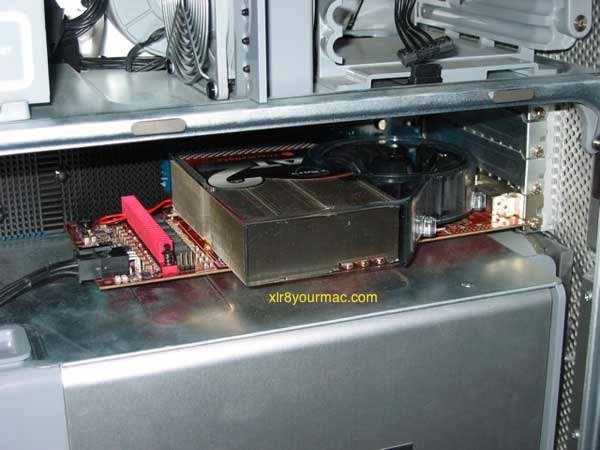 See the Video topics page for other Graphics card related articles.