Report: 2006 Mac Pro (MacPro 1,1) Dual 3GHz X5365 CPU Upgrade
(Low-Cost Dual Quad-Core CPUs)
Posted: Aug. 18, 2014
---
(from a reader mail)
"Subject: Mac Pro1.1 CPU Upgrade (again !!!)
Recently found a pair of Xeon X5365/3.0 GHz (Ref: Intel X5365 CPU info) for $ 75.00 + Shipping. (Used/Pulls I assume from Ebay?)
I had (previously) upgraded this Mac Pro 1,1 from the original X5120/ 2.0 GHz dual-core Xeon CPUs to a pair of L5320/1.86 GHz quad-core CPUs. (Ref: Intel L5320 CPU info.)

Everything went smooth during install ( No surprises, second time around )
Am very happy with the results (Geekbench 2.2.3 scores below)
Regards, Robert B."
GeekBench 2.2.3 Dual L5320 scores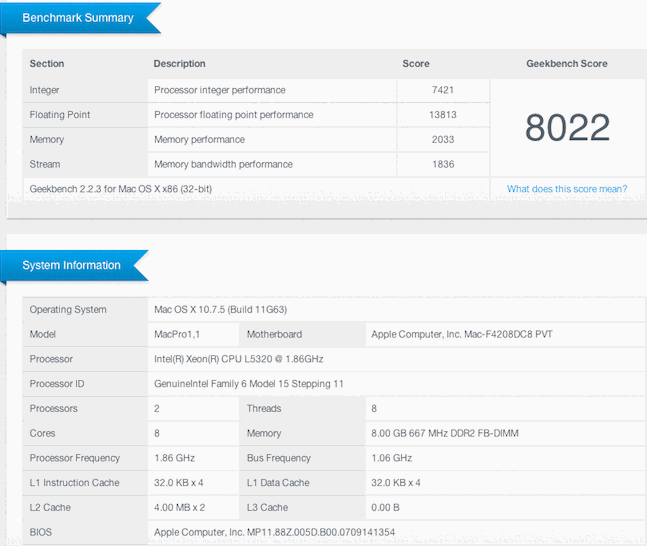 GeekBench 2.2.3 Dual X5365 scores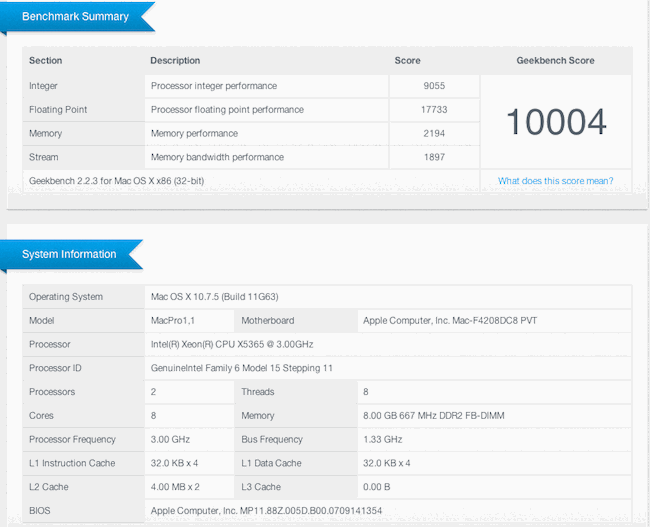 Thanks Rob. I'd bet real-world tests (like Handbrake encoding for example) would show more of a gain from the X5365 vs L5320. I've never used Geekbench but I would have expected a bigger delta between those 2 CPUs. (Granted some factors like Memory are the same but that's a significant boost in clock speed.) I wondered if it was a bug in GB2.x so tried searching Geekbench for v2 vs v3 results - Geekbench v2 L5320/Mac Pro1,1 results (most in 6xxx-8xxx score range) and Geekbench v3 L5320/Mac Pro1,1 results (2 results - 5523 and 6560). And here's their Geekbench v2 X5365/MacPro1,1 results and Geekbench v3 X5365/MacPro1,1 results.
Regardless, a great upgrade for $75.

---
(Links to Mac Pro 1,1 CPU upgrade guides/video are in past upgrade posts like this one.)
---
---
OWC XYM SPECIALS!
(Ad/Sale items)

= UPGRADES by Mac =
Upgrades just for
YOUR Mac!

= Refurb Mac Pros =
(Click for List)

SSDs up to 4TB
Fast SSDs for Most Macs/PCs

= ThunderBolt =
Drives, Docks & More

= HARD DRIVES =
Up to 12TB HDDs
HGST, WD, Seagate, Toshiba

= 2.5in HDs & SSDs =
Notebook Hard Drives and DIY drive/case kit bundles

= MEMORY =
Lifetime warranty RAM Upgrades!

= OPTICAL DRIVES =
Internal and External Superdrives/Blu-Ray drives

= VIDEO / DISPLAY =
Graphics cards, Displays, Adapters, Cables & more

= AUDIO ITEMS =
Interfaces, Cables, Software, Speakers, Headphones & more

= SOFTWARE =
Apps, Utilities, OS, VM, Games and more

= WIRELESS =
WiFi and Bluetooth Devices/Adapters/More