Feedback on Edimax 802.11N PCI card in Macs
Reports last Updated: 1/29/2008
Updated 11/27/2007 for notes/links on Driver Update (w/OS X 10.5 support listed)
---
Driver Update: (11/27/2007) Although some readers have used the previous drivers with OS X 10.5/Leopard and their (RAlink chip based) Edimax 802.11n adapters (USB, PCMCIA, PCI), I received an email today from Edimax saying there were updated drivers available now that officially listed OS X 10.5 support. Edimax later wrote that Mac drivers are now available on the updated edimax.US site download page at http://www.edimax.us/html/english/frames/b-download.htm and suggested using those instead of the downloads from the edimax.com site I had originally posted (as there were none at that time at the .us site.)
I don't currently use one of these adapters but welcome feedback from readers that try them with OS X. (Drivers listed as 10.3, 10.4, 10.5 compatible) Let me know what you think (and info on your Mac model, network/base config, etc. - send mail to news at this site.)
---

This page has reader reports on the Edimax 802.11n PCI card (RAlink chip based, using their OS X drivers).
NOTE: OWC originally sold the Edimax 802.11n PCI, PCMCIA and USB 2.0 adapters on the Xlr8yourmac Site Specials page but in early Feb. 2008 they replaced them with their own line of NewerTech branded models:
"Have replaced the Edimax 802.11n products with our NewerTech line of wireless products. Our NewerTech line comes with the Mac driver + a real Mac manual right in the box and full Mac support from NewerTech of course.
The NewerTech USB 802.11n/g/b adapter is also rather unique in that it includes an extension cradle so you can better position for reception if so desired. It works straight to the USB port too, but the extender cradle is a nice bonus for those that need that extra positioning. (The PCI card model includes a triple antenna pod that can also be relocated.)

Also on the list is our 802.11n/g/b performance router. And it's one of the most cost competitive 802.11n routers on the market.
Best Regards,
Lawrence R. O'Connor
Other World Computing"
Reader Reports on Edimax 802.11n PCI card: (later reports first)
(If you've used the Edimax 802.11N PCI card, PCMCIA card or USB adapter with Macs, let me know the details (including base used, mode, any range/performance tests, etc. - send to news at this site.) Thanks.
"Thought I would share my experiences about the Edimax PCI N Card.
I just got a Airport Extreme N Base Station this weekend and tried out a RA Link PCI N Card I got off eBay. EW-7728In. I'm using it on a PowerMac G5 running 10.4.11. I'm using the latest drivers from RALink.

One can continue to keep the Airport Extreme Card on the Mac with the PCI Card installed. (Both connections can be on simultaneously and each card will get their own IP address.)
(Natively compatible 802.11g cards (broadcom chip based) require removing the Airport card as they use the apple Airport driver.)

It appears a PCI Ethernet card. (If one doesn't have an airport card installed, the Airport strength icon does not appear on the menu bar) (the RAlink Utility includes a signal strength indicator as shown below - for all 3 antennas. Also remember like most all PCI/PCcard/USB 802.11n adapters I've seen, 5GHz mode isn't supported so make sure your Apple N base is set to 2.4GHz band. (Apple 802.11n base supports both 5GHz and 2.4GHz modes.).)

The new installation adds the Ra Wireless Utility which boots up at start up. (some readers earlier mentioned adding it as a login/startup item but maybe the later update/installer does that automatically.)
If the machine goes to sleep, it may take 90 seconds for it to reconnect, or one has to launch the utility and then reconnect. Definitely annoying and not great for regular users.
Haven't tried any kind of fancy uploads yet...but I hope Apple will write a native driver that will allow the card to work as an "Airport Card".
-John"
I'd not hold my breath though, as support for other than their OEM shipped cards historically hasn't been a priority (although luckily some same-chipset cards have worked natively in the past) - Apple's 802.11n cards (mini-PCIe format) use either the BroadCom (i.e. Mac Pro card) or Atheros AR5008 (i.e. MacBook/Pro cards) as mentioned last year on the previous page on Mac 802.11n info/adapters/routers.
---
"I just installed this in my computer today. (Edimax 802.11n PCI card.) It was so easy. I remember trying third party cards and ones that claimed to be mac compatible, but just ended up being giant paper weights. It's so nice to to just pop in a card, install a driver and just use it! Connection was fast! Could not tell the difference between my Ethernet connection and the new wireless card.

I noticed the biggest improvement was with the uploading to my remote hard drive on my airport extreme. I was pushing 2 MB per second! I am happy with that. It's a great deal, and its nice to finally have a product that does what it says it will do!
The one thing that is kinda annoying is you have to set the utility it comes with to be one of your launching items at startup. If not you have to manually open it and connect to your network. Oh well. But I love it! Attached are photos!
-John W.
Internet Support Specialist "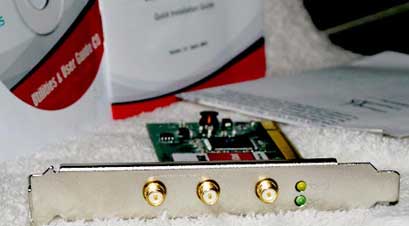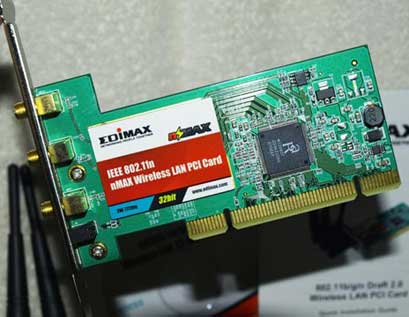 RAlink Utility: (Window not selected/active, so grayed out.)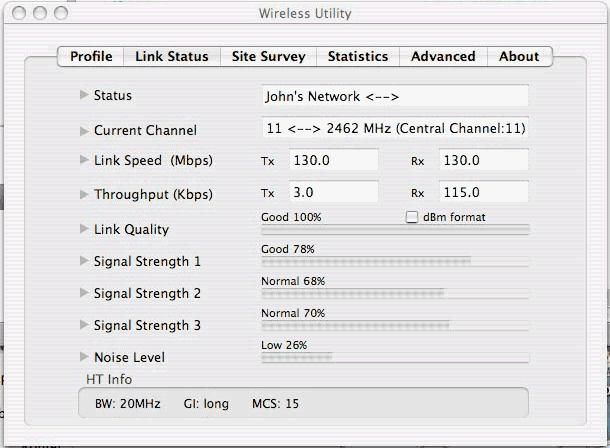 FYI - here's a Edimax 802.11n PCMCIA card user's RAlink Utility screenshot with it active, showing the cardbus version also has MiMo.
---
" I just got the Edimax 802.11n card today from OWC and installed them in two of my computers. One computer is a Quicksilver and the other a G5 dual 2.0 Ghz. The installation was easy and the drivers discovered the cards right away. I seem to be connected at a faster rate than before, but I have not tried to discover exactly how fast, yet.
I tried to set up my airport extreme (802.11n) base station to the N standard at 5 Ghz. My macbook core 2 duo (already n compliant) had no problem at all. the Edimax cards could not find the network when I did that. (I added a note to the first reader report on this (UK reader with PCMCIA/Cardbus version) that all the PCI/PCCard/USB 802.11n adapters I've seen so far use 2.4GHz band, not the 5GHz band.) Once a reverted to a 2.4 Ghz N network, the Edimax found the network right away. I tried to transfer a large document between my macbook and my G5, however, the transfer rate was extremely slow. Still trying to figure out the driver software and adjust the antennas, etc. Seems to work, but I am not sure yet if this is the best solution.

(Wireless xfers can be slow (note the dismal rates reported from USB drives connected to apple's 802.11n base) but have you compared rates with similar transfers using 802.11G adapters on the same setup?)
At first the transfer rate was quite slow, but I repositioned the base station to get better reception from each computer. After that, the transfer was very fast (e.g. transfered a 500 mb file in about 2 minutes).

I have noticed that with these cards, I have to log onto the network a lot. If the computer is asleep for a while, I usually have to open the wireless software and re-connect (which also involves re-entering the network password). I hope Ralink will update their software so that the connection stays on and re-connects automatically upon restart or sleep. It is fast, but not as convenient as airport.
(I asked David if he had the RAlink utility set as a startup item.)
Good Point. I just left the utility program running and there were no problems. I'll make it a start-up item, which should solve all my problems.

Otherwise, the card is working great and download/transfer rates have been much faster than my 802.11g airport card.
Best, David M. "
---
---
OWC XYM SPECIALS!
(Ad/Sale items)

= UPGRADES by Mac =
Upgrades just for
YOUR Mac!

= Refurb Mac Pros =
(Click for List)

SSDs up to 4TB
Fast SSDs for Most Macs/PCs

= ThunderBolt =
Drives, Docks & More

= HARD DRIVES =
Up to 12TB HDDs
HGST, WD, Seagate, Toshiba

= 2.5in HDs & SSDs =
Notebook Hard Drives and DIY drive/case kit bundles

= MEMORY =
Lifetime warranty RAM Upgrades!

= OPTICAL DRIVES =
Internal and External Superdrives/Blu-Ray drives

= VIDEO / DISPLAY =
Graphics cards, Displays, Adapters, Cables & more

= AUDIO ITEMS =
Interfaces, Cables, Software, Speakers, Headphones & more

= SOFTWARE =
Apps, Utilities, OS, VM, Games and more

= WIRELESS =
WiFi and Bluetooth Devices/Adapters/More