Archive of Monday/Tuesday Oct. 27/28th, 2014 News
Go to Current News Page
---
Mac Upgrades/Mods | CPU Upgrades | Storage | Video | Audio/HT | Apps/OS/Network | Search
---
Miss a Day? See the Archives
= Recent Articles/Updates =
( Your Tips, Upgrade Reports, Questions to news at xlr8yourmac.com)
Nvidia Driver Update 343.01.01f02 for OS X 10.10.0 (Yosemite)
(Oct. 30th Update: 343.01.01f03 driver but some still seeing 'CUDA Update required'.)
(earlier post follows)
Driver update download page for the 'web update' mentioned in Monday's post on a fix the "CUDA update required" issue using previous 'f01' graphics driver. (Despite an early report it was fixed, 3 readers said they still see that problem with F02).
Nvidia's 343.01.01f02 Mac driver update for OS X Yosemite download page is dated Oct. 28th. Here's a clip from the release info tab:

"CUDA Application Support:
In order to run Mac OS X Applications that leverage the CUDA architecture of certain NVIDIA graphics cards, users will need to download and install the 6.5.18 driver for Mac located here.
(As of Oct. 28th, that's CUDA 6.5.18 update for OS X posted Sept. 19th.)

New in Release 343.01.01f02


Graphics Driver updated for OS X Yosemite 10.10.0 (build 14A389).
Contains Performance Improvements and bug fixes for a wide range of applications.
Includes Nvidia Driver Manager preference pane.

Release Notes Archive:
This driver update is for Mac Pro 5,1 (2010), Mac Pro 4,1 (2009) and Mac Pro 3,1 (2008) users only. Supported products: GTX 680/285/120, 8800GT, Quadro K5000, 4000, FX4800 and F5600."
(Supported models on their page is often not a complete list.) Additional Info tab has more on driver installation and Nvidia Driver Manager prefs page features and settings. (I don't have the card/OS to test these personally.)
Update: Despite a report yesterday saying an update fixed the problem, not for this user:
"As for the drivers issue, I have the new 01f02 nvidia driver and the latest 6.5.18 cuda driver on a Mac Pro 4,1 with GT-120 running Yosemite OS X 10.10 (14A389) and I *still* get that stupid "need to update" mess at startup. Have re-installed both drivers, same result. If nothing else, 01f02 doesn't seem to be a "universal" fix.
Just so anyone else seeing the problem persist won't think they are alone...
-Daevad"
Thanks, disappointing. I didn't see any newer posts (as of 9PM ET Tuesday) on this since Monday's comment on a web update fixing it (later retracted) and had been watching 3 threads on the problem but I'm sure there's others.
I asked John (from earlier posts) what he's seen w/f02 (previously he switched to the Default graphics driver to avoid that message) and he said he's still getting the same "CUDA Update Required" as with f01 drivers. Ditto for a reader with a GTX 570 modded by MacVidCards. (Thanks Brian.) Also seen comments on very low benchmark performance with f02 drivers from two GTX 6xx card users.
Here's the screenshot John sent showing f02 drivers used and CUDA Update required still present (same as with f01).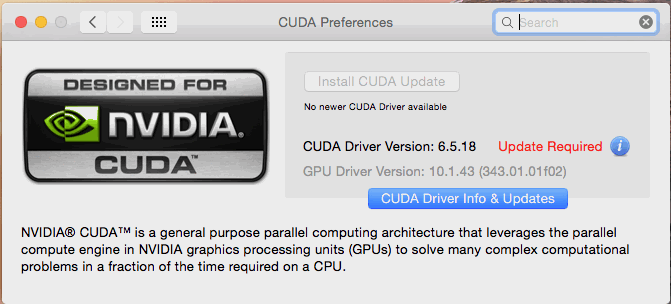 I'm guessing we'll see F03 or later soon. (Anyone try after a safe boot/reinstall/kext cache rebuild?)

(Oct. 27th) Updated Apple Support/How-To Articles:


More at page of Tips, Troubleshooting & How-To articles for Mac/OS X/iOS Users.

Reader Feedback (Yosemite, Mail, Logic, USB Duet2):
Reader comment in reply to threads on Mail problems in OS X Yosemite. (I don't use Yosemite yet personally.)

"Mail in Yosemite is working fine for me on my "Mackintosh", except that Apple has removed the Address Panel present in the Mavericks "Window" drop-down menu. Very frustrating because I had several Groups in Mavericks Mail which presented nicely and allowed me to select names within groups easily. Now that is gone.

Instead, there is a circle at the right of whichever destination ("To," "Cc," or "Bcc") you click on, with a "+" in it. Clicking on the "+" brings up your "Contacts" list. You can pick a Group or a name, or shift-click names, and they will be added. This is a step backwards from the Mavericks' Address Panel, IMHO. (End rant!)
- Bill S.
---
"Major cpu overload issues running Logic with Yosemite on mid 2011 iMac
I have a small music studio. I've been using DAWs for 16 years and consider myself pretty good at maintaining a clean system and troubleshooting. I'm a nerd!
Since upgrading from 10.9.5 to Yosemite I'm experiencing a MAJOR cpu overload when using Logic.
Mid 2011 27" iMac 3.1Ghz (Quad-Core?) i5 16GB, Logic 10.0.7, Apogee (USB) Duet2 (with the latest Yosemite certified drivers).
(Assume "Duet2 USB Mavericks/Yosemite October 2014" D/L on this page.
Do you have a backup to revert back to previous OS version?
For work machine I'd normally pass on dot zero/major upgrades.)

I've found one other user (Logic Pro Help forum) with the same issue. His is a 2011 iMac 3.4Ghz i7. He has a Duet2 as well. Just reporting in case there are more of us out there with the same issue.
(You've likely already done the usual things (check activity monitor, logs, disconnect/reconnect device, remove 3rd party addons, reinstall, EtreCheck), so I welcome other users' tips. Anyone using a Duet2 not seeing this in Yosemite? (Or seeing same issue w/o it.)
I didn't see Duet2 in their products menu, but Duet2 was in the Support menu. (Didn't scan all the pages in their FAQ on Duet2 (USB) but latest Mac related entry was May/June.)

Yes I've done all the usual things you suggest, plus quite a few more things, all to no avail.
(So Activity Monitor check showed nothing other than Logic using a lot of CPU cycles? Sometimes a major OS upgrade causes problems with addons so that was my first guess. (SystemUIServer process may show high usage if you have any addons with menu bar items that need updating, sometimes forgotten in checks.) Even spotlight may hog cycles after a major upgrade.)

I know most people aren't having this issue. I think it is strangely related only to the mid 2011 iMac.
Over at Gearslutz I posted a thread asking if anyone using the same system as me is having the same issues. So far 146 people have looked at that thread and no mid 2011 iMac users have replied. I conclude that I'm in a very small group of users at present!
All my hopes now rest on OS X 10.10.1 and/or Logic 10.0.8.

(he later wrote)
I can now report that even after uninstalling the Apogee Duet software, disconnecting the Duet2 and selecting internal audio for input and output (buffer 1024) the high cpu load issue continues with Logic. So I think we can safely rule out Apogee/Duet as the case. It seems to be a mid 2011 iMac issue.
regards, Murray"
No idea why just that specific model. (Unless related to some chipset/rev, but often that's not unique to one model. More often software/bug related.)
It may not be of any help but here's an Apple support doc on Logic Pro X (10.0.7 or later) Processing Threads setting and Core Usage.
A reader/Logic Pro X user with an 8-core 2008 Mac Pro running OS X 10.10 replied he's had no CPU usage problems.
(Update: Murray later wrote he's reverted back to OS X 10.9.5 and all is well again.)

Other News/Updates/Tips
---
= From my Sponsor =

miniStack MAX, 4-in-1 Storage Solution
Combines an external drive, optical drive, SD Card Reader + USB Powered Hub. Interfaces: 2x USB3.0/2.0, eSATA, 2x FW800 and USB charging port. Available with up to 5TB HD (+ Blu-Ray writer or CD/DVD writer/Blu-Ray-reader) or as an enclosure kit (add your own drives)
[Several 0GB Enclosure kits and optical drives on site specials page]
---
Recent Updates, Tips, DIY Upgrades/Mods/Repairs:
---
= From my Sponsor, your click matters =
More Memory = A Faster Mac!
Use our memory guide to see how much RAM your Mac can use and the cost.
Our installation videos make this a simple "DIY" job for almost any Mac.
Or Search for Upgrades for Your specific Mac Model
---
Previous News Archive Summary:
Friday, Oct. 24th News
Nvidia GT120 CB R15 Scores: OS X 10.10.0 Default vs Nvidia Driver
More posts on OS X Yosemite Wifi issues
Tech Time Warp: Apple Ads with Jeff Goldblum
iPad Air 2 Teardown.
Apple doc on Adobe Flash Player updates
Mac notebooks: Reducing cable strain on your MagSafe power adapter
Civilization: Beyond Earth Benchmarks - AMD vs Nvidia
For links to older news pages, see the Archives.

---
OWC XYM SPECIALS!
(Ad/Sale Items)

= UPGRADES by Model =
Upgrades for YOUR Mac!

= Refurb Mac Pros =
(Click for Current List)

= SSDs up to 4TB =
SSDs for Most Macs!

= ThunderBolt =
Drives, Docks & More

= HARD DRIVES =
Up to 12 TB HDD
HGST, WD, Seagate, Toshiba

= 2.5" HDs & DIY Kits =
Notebook Hard Drives and DIY drive/case kit bundles

= MEMORY =
Lifetime warranty RAM Upgrades!

= OPTICAL DRIVES =
Internal and External Superdrives/Blu-Ray drives

= VIDEO / DISPLAY =
Graphics cards, Displays, Adapters, Cables & more

= AUDIO ITEMS =
Interfaces, Cables, Software, Speakers, Headphones & more

= SOFTWARE =
Apps, Utilities, OS, VM, Games and more

= WIRELESS =
WiFi and Bluetooth Devices/Adapters/More

= Repair Service =
for iPhone, iPad, Macs

= iPad/iPhone/iPod =
Accessories, Cases, Docks & More