Archive of Wednesday Oct. 29th, 2014 News
Go to Current News Page
---
Mac Upgrades/Mods | CPU Upgrades | Storage | Video | Audio/HT | Apps/OS/Network | Search
---
Miss a Day? See the Archives
= Recent Articles/Updates =
( Your Tips, Upgrade Reports, Questions to news at xlr8yourmac.com)
More Feedback on Logic X CPU Usage in OS X 10.10 Yosemite
2008 Mac Pro owner (John, who had reported earlier on Yosemite and Logic/WAVES) replied to a previous post on high CPU usage (2011 iMac 3.1GHz i5 Quad-Core):
"I'm running Logic X on the clean install I did for OS X.10 Yosemite. (About 30 hours of work.) Logic Pro X is working with perfect performance on my 2008 Mac Pro. (IIRC, Dual 2.8GHz Quad-Core Xeon.) So, don't know why someone else would get bad CPU performance on their Mac using Duet 2.
(Duet 2 not the issue per later comments/tests with it removed. He has a 3.1GHz quad-core i5 iMac.)

I have an Apogee Ensemble and a Duet 1. No CPU problems here. I'm sending screen shots of a song I'm working on with 33 stereo channel strips and 22 AUX tracks, using tons of plug-ins and I'm showing very low CPU usage on this relatively huge song.
- John"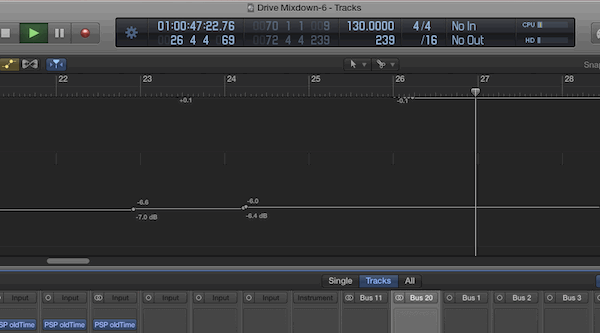 Thanks John. It may not have helped him but I'd forgotten about an apple doc I'd included in some support doc updates about Logic Pro X Processing Threads setting and Core Usage.
(Murray later wrote he's reverted back to OS X 10.9.5.)

OS X 10.10: WaveBurner, SoundTrack Pro Problems. Snapz Pro update in works
(John had commented last week about some audio issues with Snapz Pro in Yosemite.)
"(Yosemite) Two other notes:

1) WaveBurner and Soundtrack Pro do not work in Yosemite, when they used to work on Maverick. It appears to me that Apple has really created a difficult permission code for audio on Yosemite.
(He sent a large screenshot of WaveBurner crash report, headline "WaveBurner cannot be opened because of a problem".)

2) Snapz Pro Report: (follow-up to prev. comments on v2.5.4 audio capture problems)
Reply to Ambrosia Software Support request:
"We are aware of the incompatibilities between Snapz Pro and Yosemite and while there is an update planned for the near future we cannot give you an ETA of the release."

---

That's it for now.
-John"
Thanks again.

(Oct. 29th) Updated Apple Support Article(s):


More at page of Tips, Troubleshooting & How-To articles for Mac/OS X/iOS Users.

Other News/Reviews/Tips/PR:
Recent Updates, DIY Upgrades/Tips/Repairs:
List of Updates, DIY Repair, Upgrade articles, Tips and more you may have missed. (Topics range from Software updates/troubleshooting to hardware upgrades and repairs.)

---
= From my Sponsor, your click matters =
More Memory = A Faster Mac!
Use our memory guide to see how much RAM your Mac can use and the cost.
Our installation videos make this a simple "DIY" job for almost any Mac.
Or Search for Upgrades for Your specific Mac Model
---
Previous News Archive Summary:
Monday, Oct. 27th News
Nvidia Driver Update 343.01.01f02 for OS X 10.10.0 (Yosemite)
About Power Nap (and macs that support it)

Guide to Installing OS X on an external volume

How to Create a bootable installer for OS X Mavericks or Yosemite
OS X Keychain Access asks for keychain "login" after changing password
Get help with hardware features on your iPhone, iPad, and iPod touch
MacBook Pro Frequently asked questions about using a Retina display
Using Apple Hardware Test (for pre-2013 Intel-based Macs)
iPhone: Wireless carrier support and features
iOS: Understanding captive Wi-Fi networks
Reader Feedback on Mail app in Yosemite
2011 iMac owner on high CPU usage in Logic with OS X Yosemite
Civilization: Beyond Earth Mac and Linux Dev Update 1 (aspyr blog)
A look at OS X Yosemite and iOS 8.1
For links to older news pages, see the Archives.

---
OWC XYM SPECIALS!
(Ad/Sale Items)

= UPGRADES by Model =
Upgrades for YOUR Mac!

= Refurb Mac Pros =
(Click for Current List)

= SSDs up to 4TB =
SSDs for Most Macs!

= ThunderBolt =
Drives, Docks & More

= HARD DRIVES =
Up to 12 TB HDD
HGST, WD, Seagate, Toshiba

= 2.5" HDs & DIY Kits =
Notebook Hard Drives and DIY drive/case kit bundles

= MEMORY =
Lifetime warranty RAM Upgrades!

= OPTICAL DRIVES =
Internal and External Superdrives/Blu-Ray drives

= VIDEO / DISPLAY =
Graphics cards, Displays, Adapters, Cables & more

= AUDIO ITEMS =
Interfaces, Cables, Software, Speakers, Headphones & more

= SOFTWARE =
Apps, Utilities, OS, VM, Games and more

= WIRELESS =
WiFi and Bluetooth Devices/Adapters/More

= Repair Service =
for iPhone, iPad, Macs

= iPad/iPhone/iPod =
Accessories, Cases, Docks & More